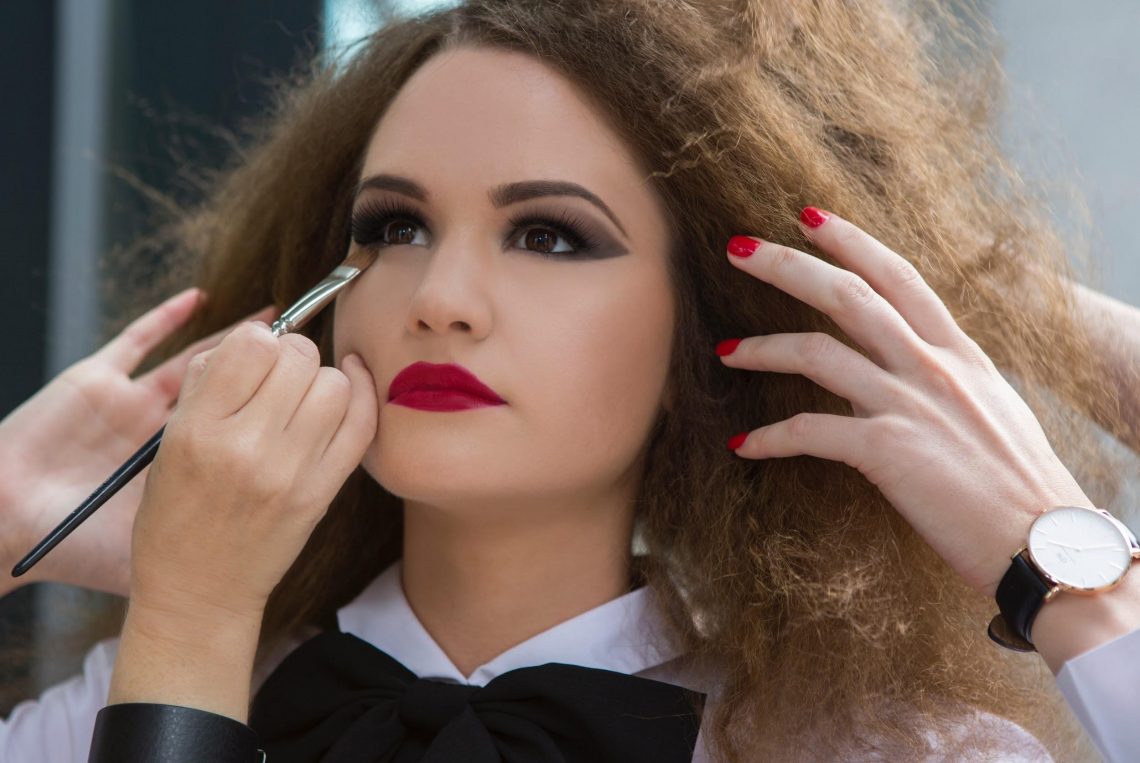 Makeup tips for achieving perfect facial symmetry
Even though beauty trends have constantly been changing, the trend of perfect facial symmetry has remained the one that's underlying the ideal beauty. It means that all our facial features such as eyebrows, eyes, eyelashes, nose, lips, and chin have to be in balance and harmony with each other, making our face attractive to other people. However, nobody has a perfectly symmetrical face. Fortunately for us, there are some ways to improve facial symmetry, and they include small correctional procedures but also applying makeup in the right way. 
Eyebrows
Symmetry is the key to a perfect face, and eyebrows are an important part of our face that adds to this symmetry. Eyebrows balance out our whole face, and that's why we're going to start with them. If you have naturally sparse or too thin brows, you'll need to fill them in a little bit. But in order to make them even, you'll need a few things. You'll need a brow ruler or a caliper (you can use a pair of tweezers as well, that you'll place along the bridge of your nose) and a brow pencil or a thin marker. Our eyebrows consist of three major parts: the beginning, the arch, and the tail. The beginning is obviously the part close to our nose where our brows begin, the arch is the highest point of our brows, and the tail is the part where brows end. Perfectly shaped and balanced brows will have the same three parts on both brows. The easiest way to achieve this is to use a brow ruler and align it to the center of your face. Use the numbers and the brow pencil to indicate the same beginning of your both brows and then use the pencil to fill in the same arch and tail. The numbers on the ruler will help you achieve an even look. For some heavier forms of brow asymmetries, there are procedures such as brow lifts that can reposition your brows to make them symmetrical.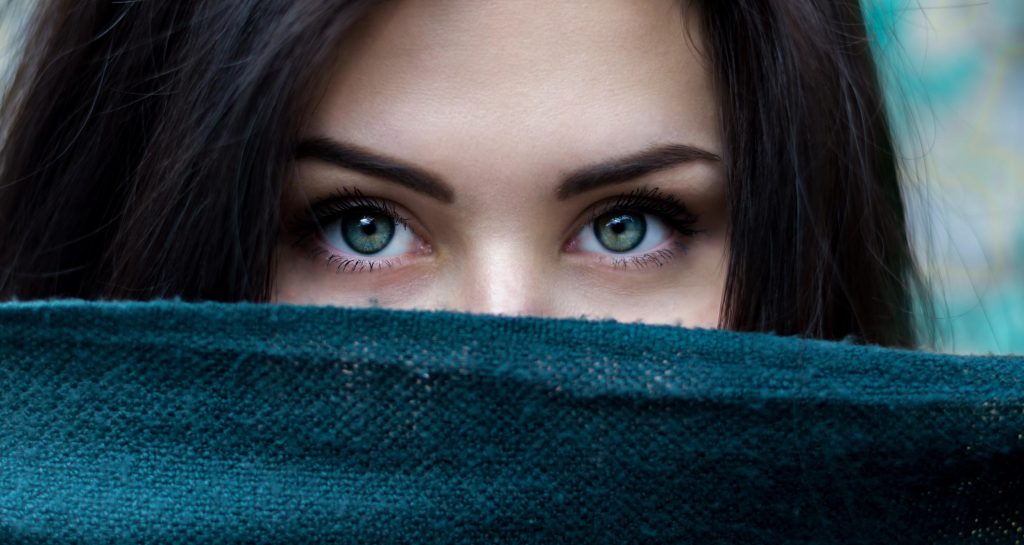 Eyes and eyelashes
Another important facial feature that adds to the overall symmetry is our eyes. First of all, our eyes are not the same size. Second, our eyelashes are proportional to the size of our eyes, which means bigger eyes – longer eyelashes and smaller eyes – shorter eyelashes. This can cause an even bigger asymmetry of your eyes. One way to fix this is to have a lash lift and tint, which can lengthen your lashes and make them darker, making them look like they're the same size. There are some makeup tips and tricks you can also try. Apply eyeliner, but apply it in such a way to draw a thinner line inwards the eyes and thicker towards the outer edges. You can also apply false lashes to the outer corners of your upper eyelids by applying mascara to bind your lashes with false ones. Voluminous lashes will detract people's attention from other asymmetrical features of your face. Beauty experts suggest that there should be about half an inch between the upper eyelid and the brow. If you have droopy eyes, you can fix them with canthopexy, by manipulating the outer corners of your eyes, which eliminates downward sloping. This procedure makes a small incision in the upper eyelid crease, so it tightens the lid. Ultimately, it gives a lifted look to the cheek and eliminates the tired look often associated with droopy eyes. These types of procedures are becoming more popular; statistics show that Australians have undergone more plastic surgeries than Americans over the last year. 
Nose
As the central feature of our face, the nose has a structural and functional role, with the rest of our facial features, it creates balance. Deviated nasal structures have puzzled surgeons since 800 BC in ancient India. Nasal deviations can be due to many factors, such as normal or dramatic post-traumatic or neoplastic deformities. If you're not satisfied with your nose, you can consider finding out what is rhinoplasty and have medical experts manipulate, resect, reshape and re-drape your nose to a perfectly symmetrical one. For example, if you wish to have a smaller nose, the bone and the cartilage are surgically manipulated. On the other hand, if you have a droopy nose, it can be fixed by positioning the tip and adding or removing cartilage. As far as makeup tips for your nose is concerned, a contouring and highlighting kit can do magic, just find what works for you. For example, a famous makeup brand Dermacol comes from Australia, but you can find these products in Europe and the USA as well. There are so many tutorials you can find online where you can learn about the right way to use these kits. The key is in knowing what features of your nose you want to hide and what features you want to accentuate. For example, if you have a nose that's too wide, you need to apply darker shades along the sides of your nose, following the bridge, and you need to highlight the bridge of your nose with a pearly brightener. This technique will make your nose look slim. For the best results, it's good to use a cream contouring and highlighting palette and the same palette in the form of pressed powder in order to make it last longer.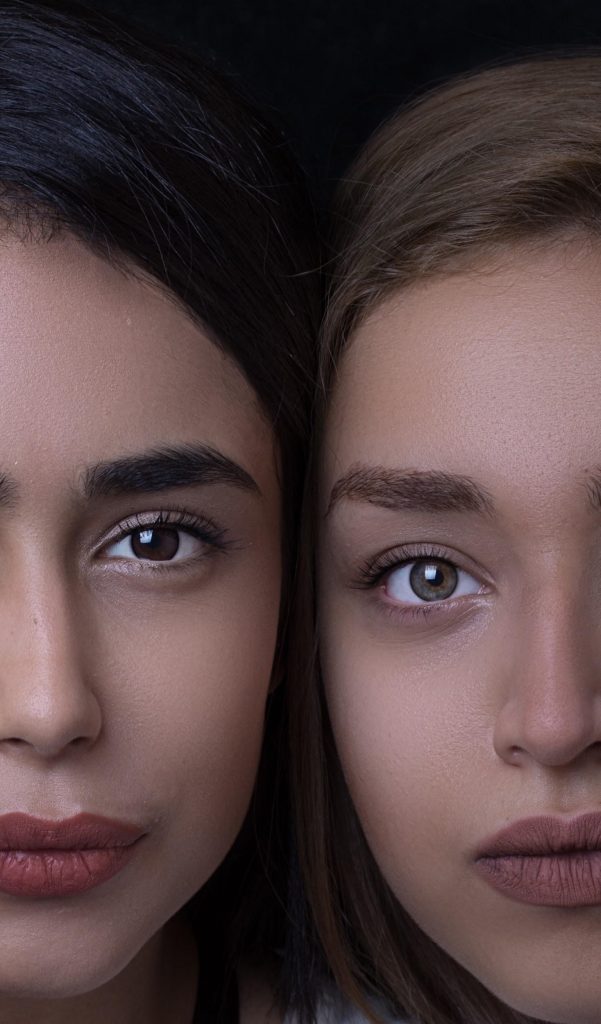 Face shape
One of the most popular ways to fake a perfectly symmetrical face is to use contouring and highlighting makeup, as the shape of our face can be asymmetrical too. And with the right makeup, brushes, and techniques, we can easily conceal an uneven bone structure. Similar goes for highlighting and contouring your face: highlight the features you want to accentuate and contour the features you want to conceal. Common areas to be highlighted include the bridge of the nose, middle of the forehead, chin, and under the eyes, while people usually contour areas such as temples, the perimeter of the forehead, the jawline, and the hollows of the cheeks. You'll need a bit of practice until you perfect your technique. One popular procedure regarding the overall face shape is fillers, which lift the cheeks. The cheeks that are considered ideal are oval-shaped, plump, and high on the face. This procedure also lifts other features such as corners of the mouth and jawline. Radiesse, Juvéderm, and Artefill are also popular procedures. Another important feature in face shape is our chin. The right chin can make your lips look fuller and your nose smaller. The perfect chin is oval-shaped, featuring a concave turn, and its position is immediately under the lower lip. Plastic surgeons can make some small incisions inside your mouth or under the chin and shave the bone a bit to make it more proportional. 
Lips
Full lips are a 100% feminine feature. If you have uneven lips, one way to even them out is to use a lip liner. The perfect shade is the shade a bit darker than your true lip color. This is essential since the contrast in the color of your lips and face signifies health and is considered to be more attractive. If you have thin lips, you can line them slightly outside the line to make them look fuller, but don't overdraw your lips, because it doesn't look natural. You can also use many lip plumping products and shiny gloss to make them even more feminine. There are many procedures you can undergo to make your lips look fuller. The most popular ones include fillers and implants. You can also do permanent lip makeup, which will slightly contour your lips and add soft color to them. 
In order to achieve that perfect symmetry, we need to be aware of what our weak and strong points are i.e., what facial features are asymmetrical so we could enhance them. This can be achieved in several ways, as explained throughout the article. Some ways are temporary; some are semi-permanent, while others are permanent. Before doing any semi-permanent or permanent procedures, consider whether that is a need or a want.