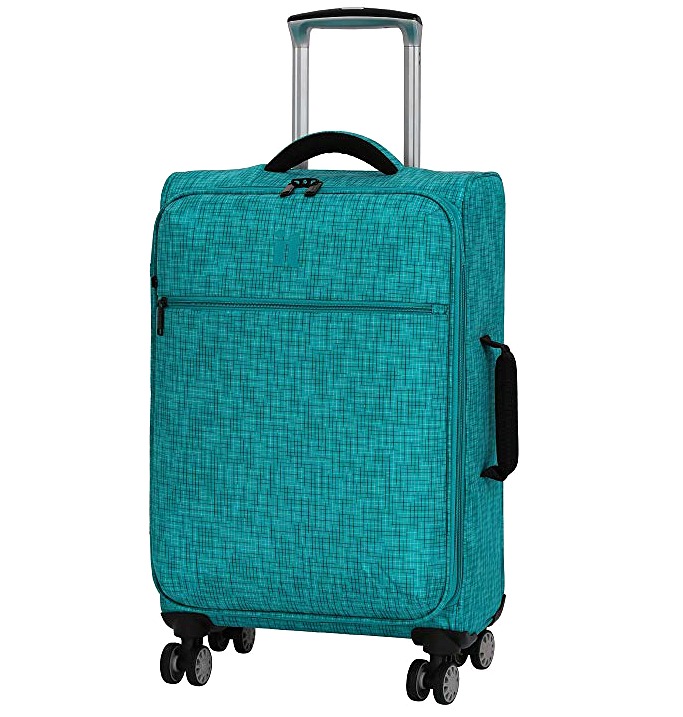 Best Lightweight Luggage Under 5lb: Avoid Overweight Baggage Fees
Trying to pack light? Avoid "ultralight" carryon suitcases that weigh too much! To help you avoid overweight baggage fees, we've rounded up the best lightweight luggage (and we actually own most of them, too). And the best part? They're all under 5lb!
Today's suitcases come with a wide variety of cool features that affect transportation, packing, and protection. You can get wheel locking systems, built-in charging units, and heavy-duty hardware.
However, the thing to keep in mind is that the more bells and whistles there are, the heavier the bag will be! What you need is balance.
Below you'll find a full list of the best lightweight luggage with wheels including information about each style, reviews, videos, and pictures, too.
Lightest Carryon Luggage
What manufacturers claim to be lightweight and what truly is the lightest carryon luggage are two incredibly different things.
What does lightweight luggage weigh?
Best lightweight luggage for checked bags: 5 – 8 pounds
Best lightweight luggage for carryon bags: 3.5 – 5 pounds
Let's start by setting the record straight: a carryon suitcase that weighs over 6-10 pounds IS NOT lightweight.
If cabin (carryon) restrictions require that your TOTAL weight be under 20 pounds, then how is that feasible when your suitcase itself weighs 9 pounds?
It's not.
Read this post to learn how to pack for a 7kg baggage allowance!
The same goes for checked bags. Just because you have a 50 pound weight allowance doesn't mean you need all of it.
However, if for whatever reason you need to bring an extensive amount of things on a trip (perhaps you're moving to another country or studying abroad), then you want to make the most of what you can actually bring.
Don't waste your weight allowance on a heavy suitcase!
Read the ultimate guide on how to choose a suitcase!
What is the best lightweight luggage for carryon?
Here are the best lightweight luggage options for carryon. They all have wheels and weigh under 5 lb:
WATCH MY REVIEW OF THE BEST LIGHTWEIGHT CARRYON LUGGAGE:
The Best Lightweight Luggage Reviews
Packing light is our specialty, and we've tried and tested almost every one of the suitcases on this list. In fact, we've even included our own review videos that provide further information to help you choose the best one for your trip.
Here are our tried-and-tested best lightweight luggage reviews: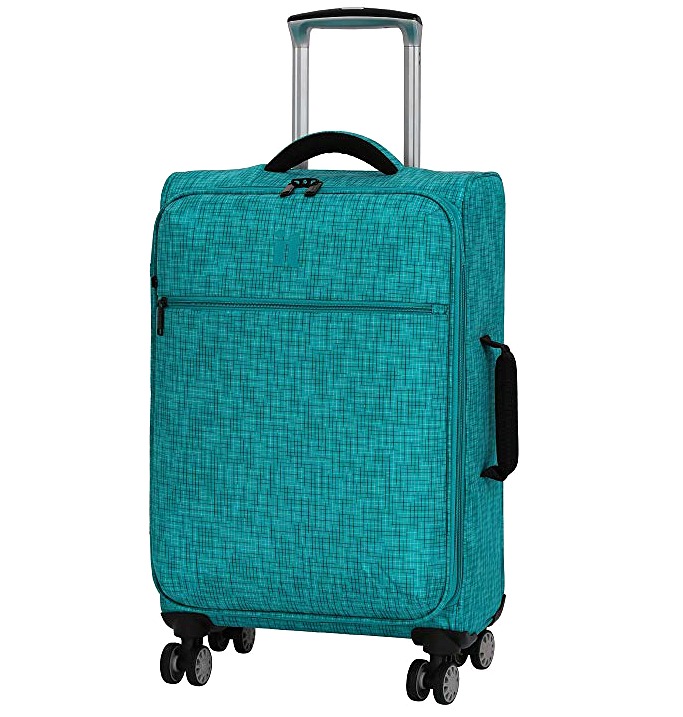 it Luggage
IT is quite possibly the best brand for ultra-lightweight luggage – it's their specialty! They have a vast selection in endless colors, materials, and prints. Unfortunately, their USA selection is incredibly limited but if you're in Europe, you're in luck because they're everywhere!
Not only are their carryons under 5 lbs, but they have a unique shape that allows you to maximize space so you don't waste it on the suitcase. You can use all the space for your belongings.
The luggage features ultra-light fabric, handles, and wheels and the price is very affordable. Many of their carryon bags range between $50-$80.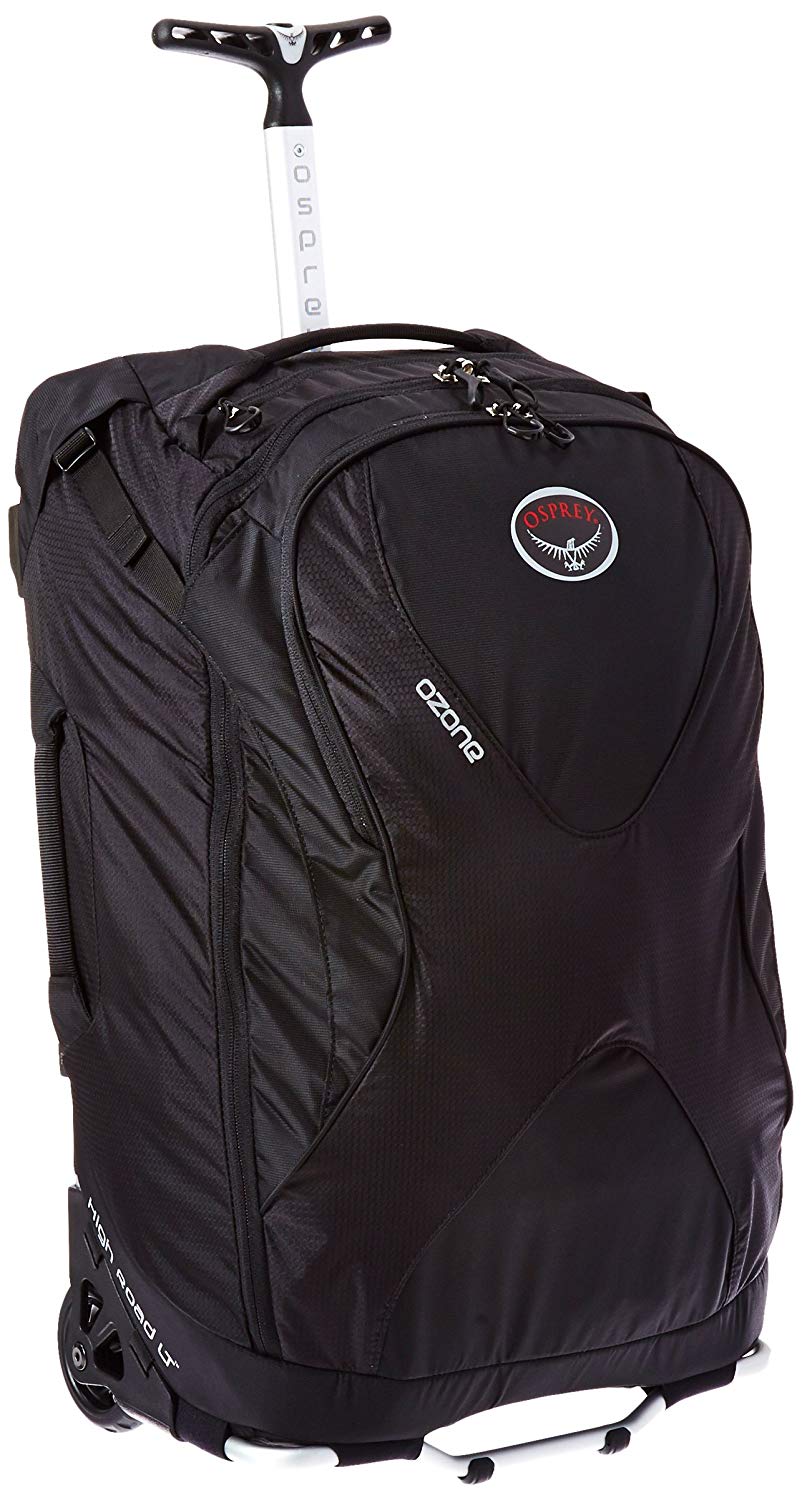 Osprey Ozone 22″/46L Wheeled Luggage, $230.00
Osprey Ozone
This is the bag that has been accompanying me on my long-term travels for the past year. You know I'm a big fan of Osprey and ever since I had to stop traveling with the Farpoint, which was backpacking perfection, the Ozone has become my new favorite.
Watch this video or read my Osprey Ozone 46 review for more details:
So far it's worked as a carryon on most airlines, even Air Asia, but it may be two inches too big for budget companies like RyanAir or EasyJet. However, they also have a 36L version that's smaller and would work for most budget airlines.
My only gripe with this bag is that I bought the previous model in black but now they have it in red. As soon as I have a travel stop in the US, I'm going to get this new color! Buy it here!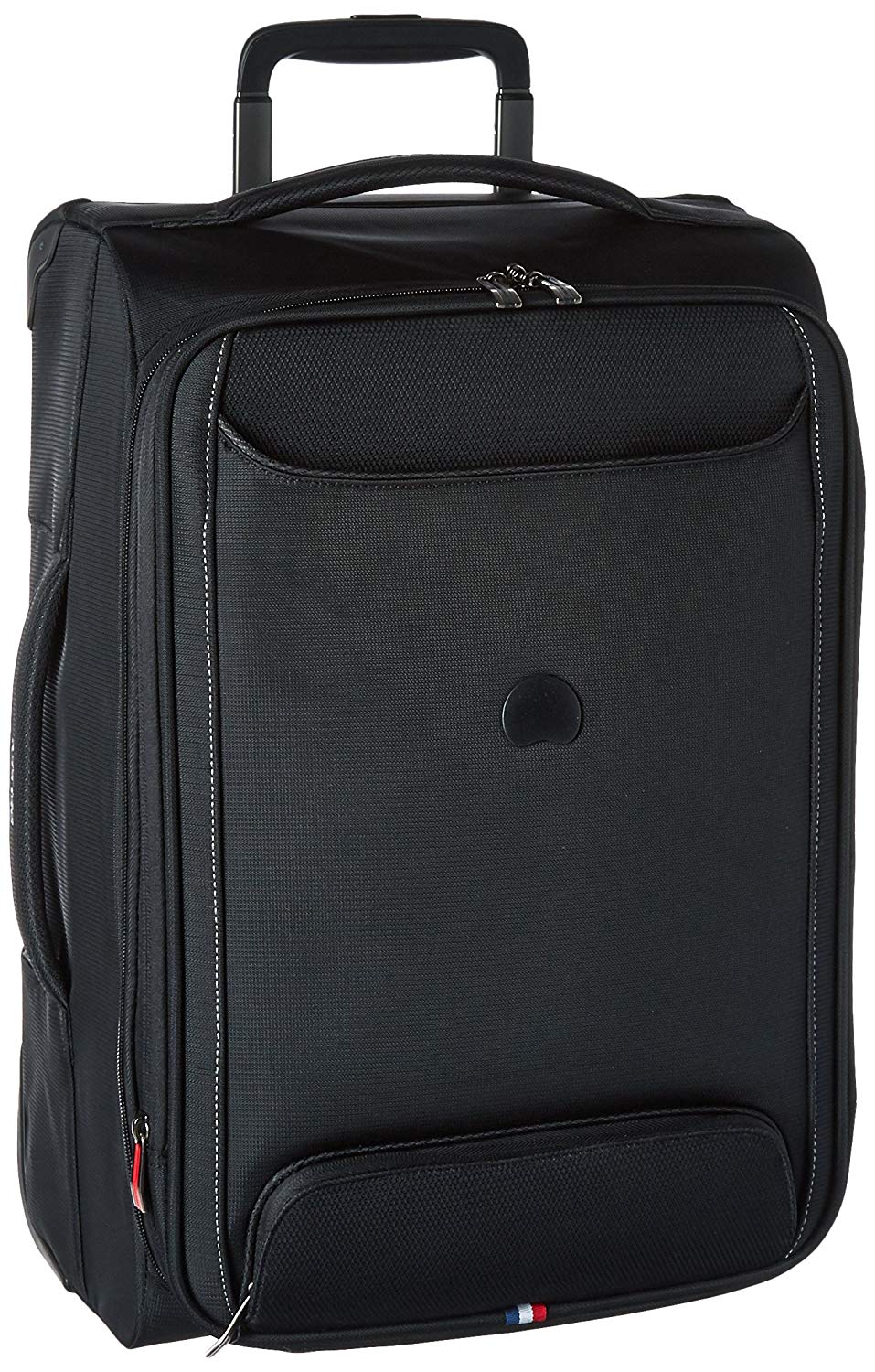 Delsey Luggage Chatillon 21″ $122.93
Delsey Luggage
I've been a fan of Delsey for the past few years and one of my favorite things about the French brand is their attention to detail, clean aesthetics, and affordable price tag. They definitely offer the most value and their newest suitcase proves it.
Prior to choosing the previously mentioned now discontinued Delsey Traversee Lite which I have and love, I had ordered the Delsey Chatillon, but it was on backorder. I did, however, get to check out the suitcase at a travel show and it was my second best option for the best lightweight luggage featuring a soft side. Buy it here!
If you're looking for lightweight luggage sets, Delsey also has some awesome options!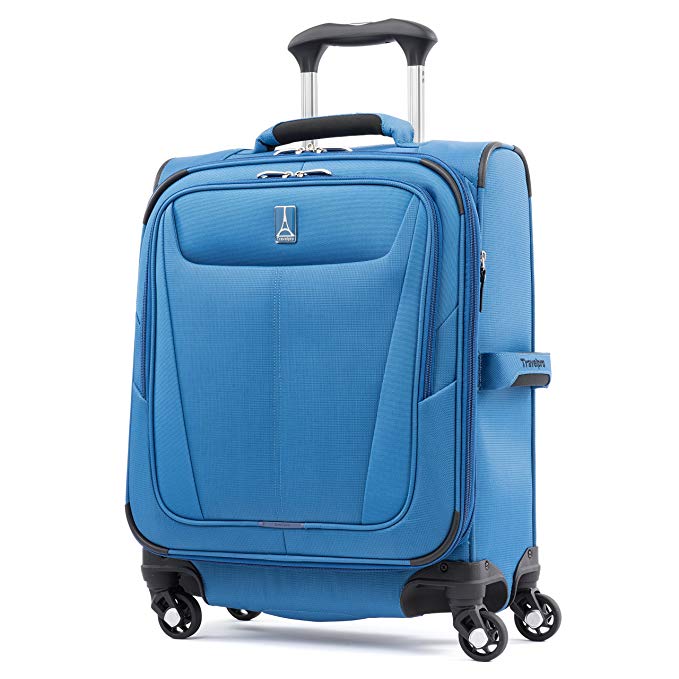 Travelpro Maxlite 5 Carry On Luggage, $118.99
Travelpro Luggage
This bag is simple and classic, and that makes it a keeper in our books. Travelpro is one of my favorite luggage brands because their suitcases are durable and easy to maneuver while also being affordable.
The Maxlite 5 is also one of the best lightweight luggage options for anyone who wants a soft-side case. You can travel anywhere with this and it won't slow you down, thanks to its smooth 4-wheel spinners, stain-resistant and water-repellant duraguard coating and ergonomic, and high-tensile-strength zipper. Buy it here!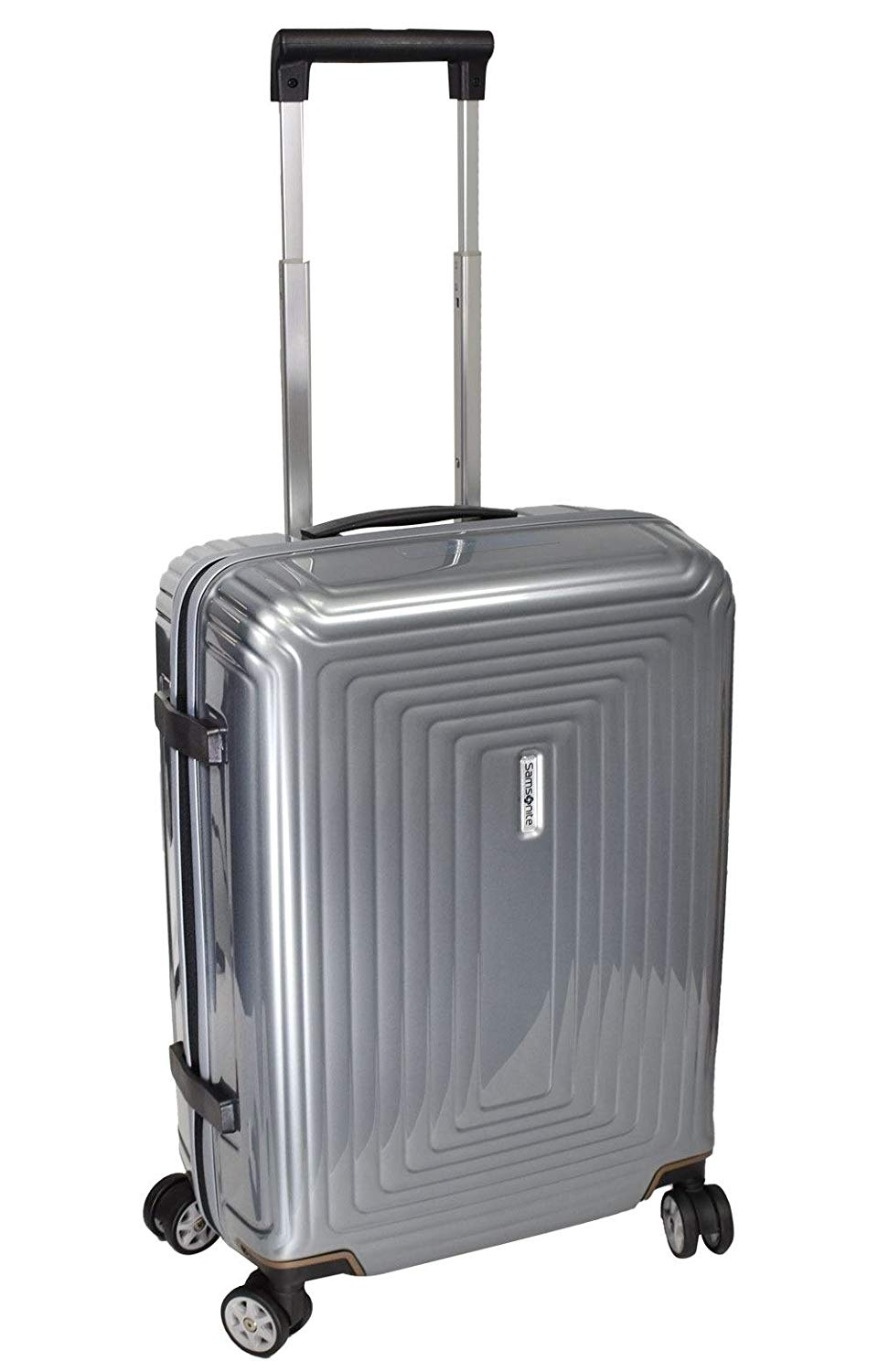 Samsonite Neopulse Hardside 20″ Spinner, $269.99
Samsonite NeoPulse
During a recent trip to Los Angeles, I set off on a mission to find the most lightweight carryon suitcase with a hard side. I stumbled upon a Samsonite store and was astounded at the excellent selections for their Cosmolite and Lite-Shock Collections.
I was in between buying either the Cosmolite or the Firelite and asked the TFG readers to help me decide as you can see in this video:
Although both suitcases were incredibly light, I chose the Firelite Spinner instead of the Cosmolite because it's a newer model and weighed 2 ounces less. In fact, they each weigh UNDER 4 lb – talk about lightest carryon luggage!
Using it on set for my TPSY TV packing videos!
Because it's brand new and part of Samsonite's premium collection, it was a steeper price tag than the other suitcases on this list. But so far, it seems absolutely worth it.
The Neopulse 20 pictured above is a good option if you want a cheaper version of the Firelite and Cosmolite. It may be a few ounces more in comparison, but still weigh under 5lb. Buy it here!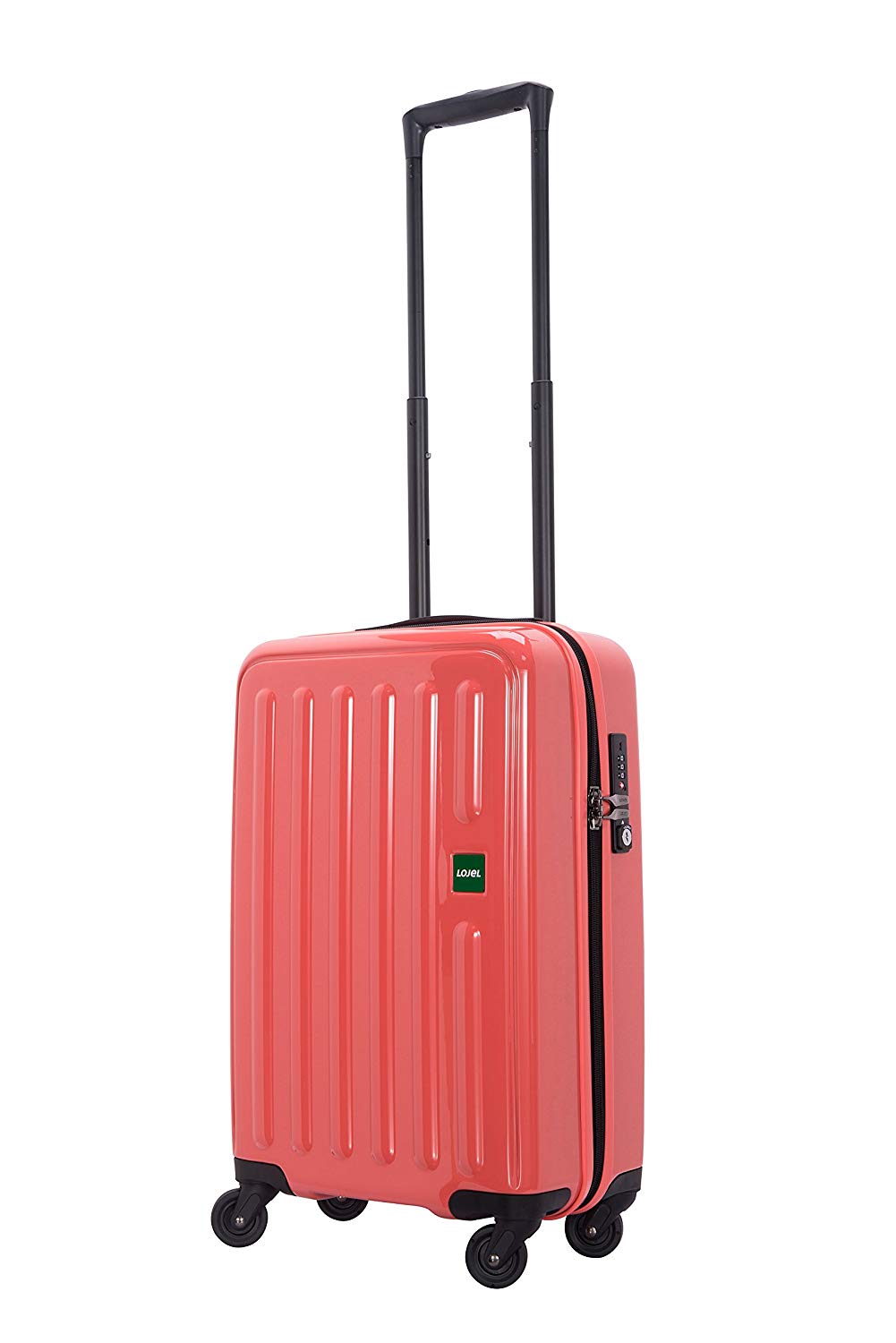 Lojel Ascent Lata Small Carry-on Spinner Upright Suitcase, $237.43
Lojel Ascent Lata
I only just found out about Lojel recently when I attended a travel show and they gifted me their Lumo. This was just after I bought the Samsonite Firelite so I now have two of the best lightweight luggage options!
Watch this video to see me pack carryon only using the Lojel Lumo:
However, I think the Lojel Ascent Iata is even better. Not only it is one of their lightest but also offers a range of fun colors. And you can't help but feel happy when traveling with a bright pink suitcase! Buy it here!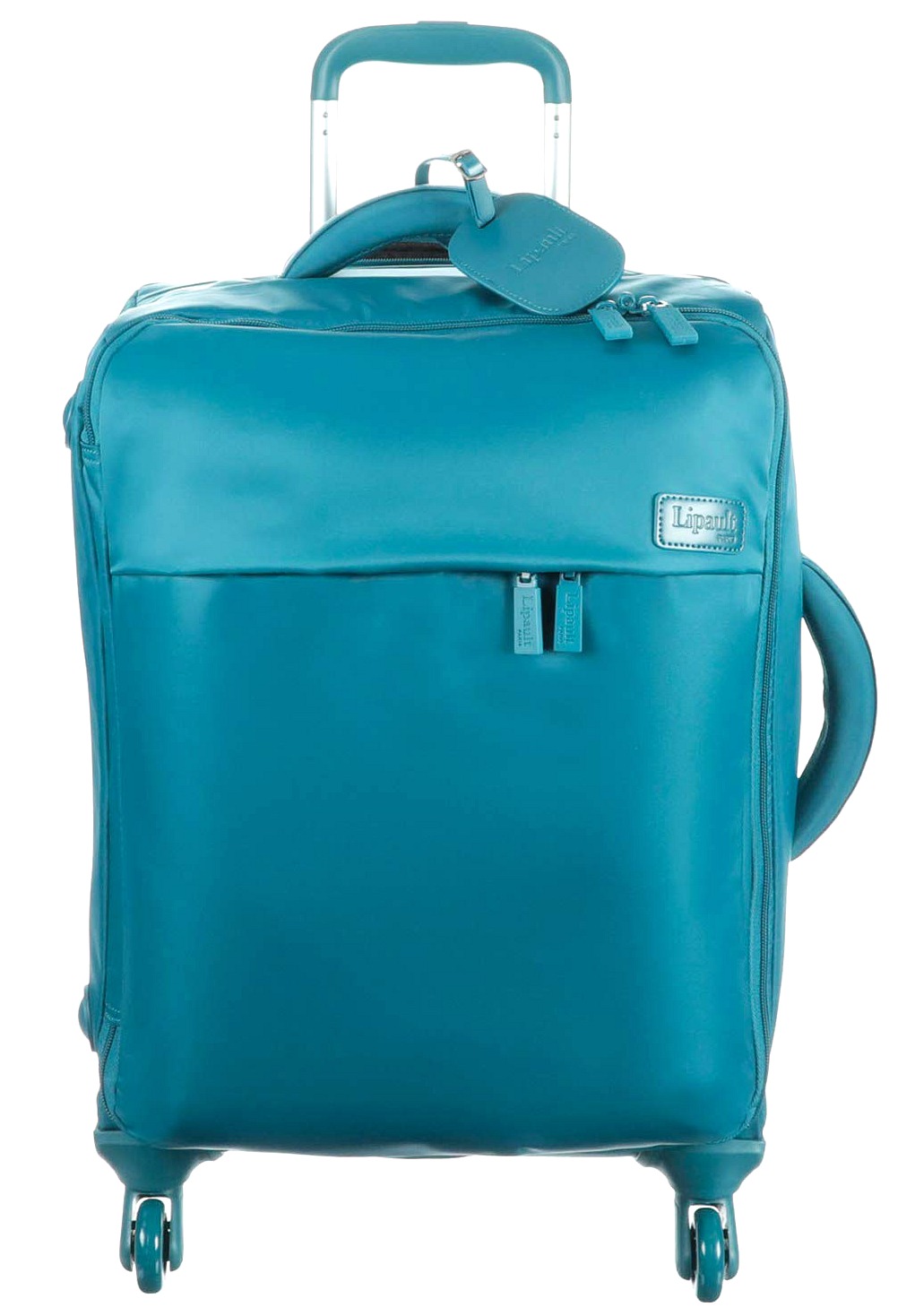 Lipault Original Plume Spinner 55/20 Luggage, $210.00
Lipault Suitcase
Sometimes you want a simple bag without any fancy bells or whistles, and that's when I recommend Lipault. This spinner suitcase is basic, but in a good way. Despite being 20", it offers amazing capacity, so you can easily fit a week's worth of outfits.
It's also easy to carry and move, while the soft side allows for more flexibility. The top carry handle allows you to lift the suitcase with ease and comfort, making it easy to travel even in the most crowded of airports and train stations.
Rimowa Salsa Air Ultralight Cabin Multiwheel, $495
Rimowa Salsa Air
One of our readers raved about the Rimova Salsa Air Ultralight Cabin Multiwheel so I thought I'd also include it in this list. At just over 4 lb, it's definitely a worthwhile addition to our list of the lightest carryon luggage.
Rimova is known for their long-lasting, quality, premium suitcases. Buy it here!
A sneak peak inside my Samsonite Firelite carryon
Packing Tips for the Best Lightweight Luggage
Packing light is all about research, planning, and preparation. These articles will help you travel carryon only to any destination, no matter the trip length:
The Best Lightweight Luggage Summary
BRAND / MODEL
SIZE / WEIGHT
FEATURES
RATING
PRICE

it luggage Lightweight Carry-on

21.5 in / 4.70 lbs
2 tie-down straps, large zippered mesh pocket, and two elastic slip pockets
TFG APPROVED!
Check Price

Osprey Ozone

22 in / 4 lbs
Easy access zippered top, handles on three sides, Lockable zippers
TFG APPROVED!
Check Price

Delsey Luggage Chatillon

21 in / 5 lbs
Easy-access front pocket, garment compartment, overweight indicator
Check Price

Travelpro Maxlite 5 Carry On Luggage

21.75 in / 5.3 lbs
ultra-lightweight carry-on spinner, adjustable PowerScope Lite handle, high-tensile-strength expandable zipper
Check Price

Samsonite Neopulse Hardside Spinner

20 in / 4.9 lbs
Durable and highly-resistant polycarbonate shell, Fully-lined interior, TSA combination lock
TFG APPROVED!
Check Price

Lojel Ascent Lata Carry-on Spinner

21.75 in / 5 lbs
Quiet running casters; feather weight and durable,
convenient tsa lock system
TFG APPROVED!
Check Price

Lipault Original Plume Spinner

20.6 in / 4.9 lbs
Easy to carry and move, zipped lateral pocket and full-length interior cover pocket, comfortable carrying handles
Check Price

Rimowa Salsa Air

21 in / 4.25 lbs
Retractable monotelescopic pull handle, zippered mesh compartments
Check Price
---
Which suitcases would you add to our list of the best lightweight luggage for travel? Comment below!
---
For more suitcase recommendations, please read:
---
LIKED THIS POST? PIN THIS PIC TO SAVE IT!
---
I hope you liked this post on the best lightweight luggage. Please share with your friends on Facebook, Twitter, and Pinterest. Thanks for reading!
Join our community of 500,000 stylish female travelers! Sign up for Travel Fashion Girl's newsletter and never miss a thing!
This post contains affiliate links. Visit our Disclosure page for details.
---