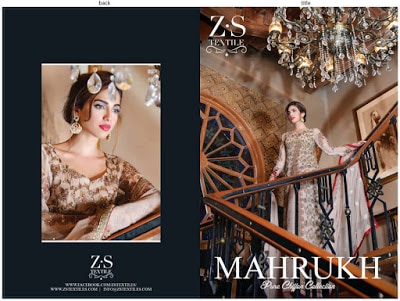 Mahrukh Pure Fall Chiffon Embroidery Dress Collection 2018-19
ZS Textiles Mahrukh Pure Embroidery Chiffon Dresses 2018-19 Full Catalogs inspired by the purity and glow of daybreak. ZS textile offer floral embroidered collection of print designs employing intricate pattern and delicate embroidery with pearls. This classic style of matching two or three different color in distinct forms is far from new, but ZS textile put their own spin on it by adding traditional elements such as embroidery appliqué and print featuring.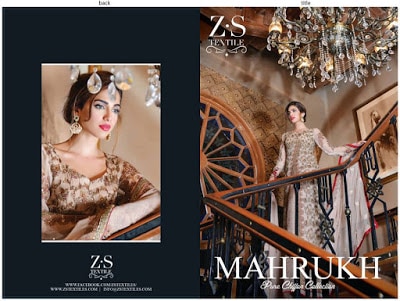 Mahrukh Pure Embroidery Chiffon Collection by ZS Textiles Launching on 26th August 2016, give you a variety of floral pattern that scream sophistication and femininity with great looks to inspire from color striations. New MAHRUKH Pure Chiffon Collection 2018-19 by ZS Textiles three piece included lawn paired with dupatta in viol, plane and crinkle chiffon.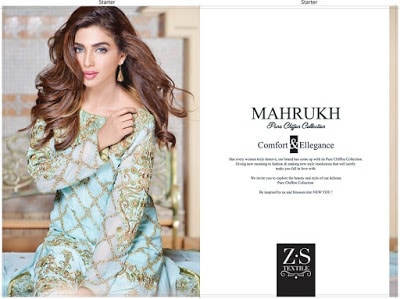 The latest print trends for chiffon summer dresses include all variations of liner pattern and geometric trend. Celebrate silhouette, shape and style with our range of assorted prints featuring different element in interplay of size and placement. Elect your personal style from a variety of combination in colors to summer wear for girls. MAHRUKH Pure Chiffon Collection 2018-19 by ZS Textiles color block is a trend with serious staying power as continue the rule into the current season.