Umsha by Uzma Babar Gul-E-Bahar Luxury Bridal Collection 2018-19
Umsha's name will once again be on the forefront of couture with its Durre Shahwar Bridal Collection 2018-19 Designs: Luxury Gul-E-Bahar. Exclusive designer wedding dress formal style adds Shirt embellished with pure organza maisuri short peplum, shirt nourished with resham work, stunning dabka art, kora work, nakshi, glitter button down till waist and front open slit for peplum.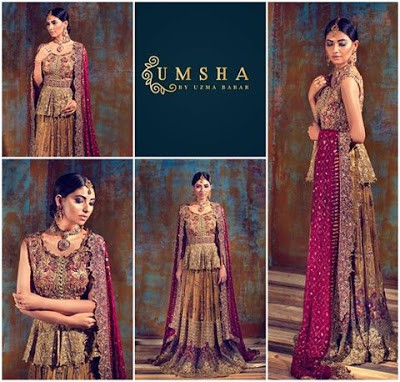 Great emphasis is laid on applying advance technique with intricate hand-embroidery meshed with kora, dabka and crystals on rich fabric of lehnga designs. Umsha luxury bridal ladies dresses collection for girls used motifs, color and pattern modernized and combined with contemporary cuts and chic look, making it wearable for the modern day bride.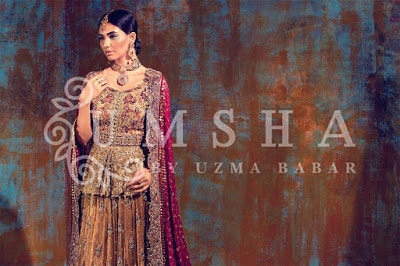 In luxury designer wear bridal Dresses 2018 collection featured traditional style of work, highlighted with ruby, emerald and pearl ornamentation. Umsha by Uzma Baber "Gul-E-Bahar" Collection brought memorable statement piece and the glory of the ancient bride. Gorgeous designer luxury party wear dresses for women with the trendiest of contemporary yet traditional styles to give and exquisite bridal look this season. Elegant ladies bridal suits designs perfect amalgamates styles with elegance by create fine silhouettes which speak volumes about her collection. Take a look Umsha bridal dresses Collection 2018-19 that is classy and beautiful.