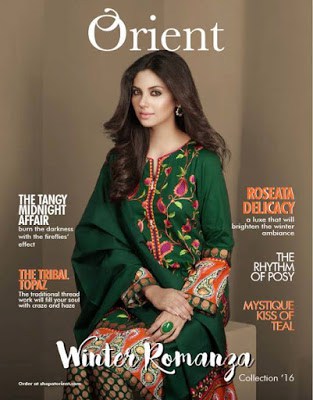 Orient Textile Latest Winter Romanza Dresses Collection 2018 for Ladies
With the new season upon us, Orient textiles focuses on the elements that give winter its unique charm. Orient latest "Winter Romanza" Collection 2018 for ladies will once again have you fall for the frostiness of the season. This beautiful embroidered winter womens dresses features three amazing fabric option; Cottle, Karandi and Khaddar, all available in a vivacious range of unstitched 3-piece, 2 piece and digital kurti prints. From its eclectic hues to the hand worked embellishments, excite you with one of Orient's biggest Winter Romanza Shawl Collection 2018-19 to date! All to make sure that all there is grabbing for everyone! Be sure to indulge in the paramount of the art that Orient textiles have delineated. Nonetheless, this look book is sure being asset for the fashion savvy women, providing you an access to fancy and dissimilar cuts for this season.
Orient Latest Winter Romanza Collection '16
Winter Romanza Collection 2018-19 by Orient Textile the tangy midnight affair attire is an outstanding pick to burn the darkness with fireflies' effect. Orient Winter Kurti Collection 2018 for Girls Adorn your wardrobe with delight and dynamism happy winters! Magenta blaze hail the frost gloom with the high toned magenta kurti crafted with multicolor thread. Latest dress design for winter in Pakistan Just the right impression to beam the sunset! This winter-fall khaddar Collection 2018 emerald paisley allures the frost chill with charisma and intense anthology of colors. Orient ladies winter dresses designs is just right amount of bold hues that make a stand out appearance. This attire is great for chilly nights out. Have a look at Orient Textile Winter Romanza 2016 full catalog.