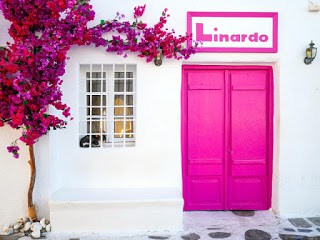 4 Days in Paros in the Cyclades
After 2 days in Athens, we are off to spend 4 days/3 nights on the island of Paros. Paros is a charming island 4 hours away from Athens. The island is 196 km2 and has the capital Parikia. Paros, it is really the typical Greek island with white and blue houses, sandy beaches and clear blue turquoise water, sunshine and heat every day, no cloud on the horizon, nice people and smiling and good food. The Greek paradise.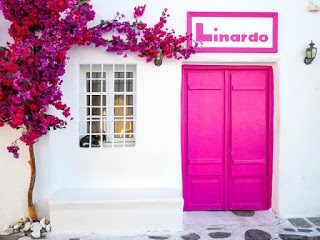 During these 4 days, we were very active with an intense program: beaches, rest and aperitif. We scoured the island with our scooter to discover the different beaches, test the comfort of the deckchairs and visit the typical villages.
How to get to Paros from Athens?
For the ferry crossing, we booked in advance on the Direct Ferries website which allows to compare all the companies of the boat with schedules, duration and rates. We chose Blue Star Ferries which is one of the best known and paid 26 € per person. It is a large boat with several spaces to land, a restaurant/bar and a fast food. For the more chilly, plan a sweater because there is wind, air conditioning and at night it is cool.
So we arrived in Paros at the port of Parikia at 10 pm with 30 minutes delay. On the island, there is no Uber and on arrival, there were quite a few taxis for about ten people waiting. We were lucky as 2 people also went to Naoussa, which allowed us to take a common taxi to drop us off at Hotel Fotilia (25 € for 2). Or sleep? We stayed at the Fotilia Hotel in Naoussa, in the north of the island. This hotel run by a Frenchman is a haven of peace within walking distance of the lively center of Naoussa. The place is charming and quiet, in a Greek style with an old mill, white walls, blue windows and a swimming pool. The room was clean with aircon, wifi, balcony with sea view but on the other hand, it was not very well soundproofed. The breakfast is half-Greek, half French, simple and correct (hot drink, orange juice, Greek yogurt with honey and muesli, mini pastries, baguette, jam, and butter).
What to visit in Paros?
The first day, we walked on foot to Naoussa then we rented a scooter for 2 days (25 € / 2days).
Naoussa: Naoussa is really my favorite of this stay in Greece. It is a pretty typical village with pedestrian streets, white and blue houses, bougainvilleas, cats everywhere, a fishing port, restaurants, shops, the beach and the sea. In short, paradise! We loved it so much that we are not even going to visit the capital Parikia which seems more touristy. At about fifteen minutes walk; there is Siparos Beach, a large beach of white sand with transparent turquoise water. The water is calm and you have a good time in the water so it's perfect for swimming quietly. We ate at Naoussa at Taverna Glafkos (book in advance in summer) and Mitsi Ouzeri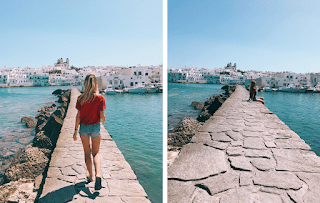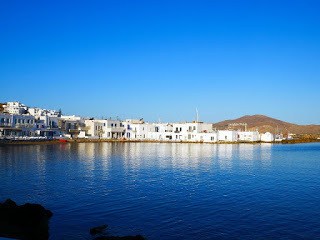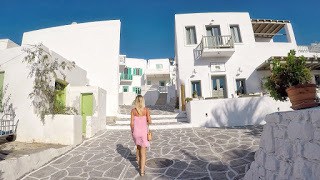 Santa Maria: It is a large sandy beach at 2km from Naoussa. The water is transparent and calm, ideal for swimming. We went around 11 am, there were not too many people in September but I guess it's armored in the summer. We stood at the trendy Santa Maria Beach Paros bar to enjoy parasols, sun beds and music (15 € for 2 people). A little "expensive" for sunbeds and cocktails (9-12 €) compared to other places but it is a nice beach for chill and jerk with events and DJ in the evening. As for the other beaches of Paros, there is no underwater life to admire with mask and snorkel.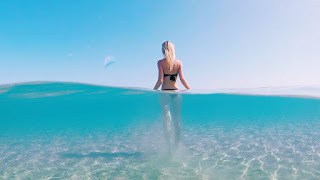 Lefkes: It is an authentic and peaceful village in the land. There are beautifully white and blue houses adorned with bougainvillea, the deserted alleys that go up and down constantly, cats too cute and a beautiful church. The village can be visited on foot, there is free parking at the entrance of the village. We broke down but a nice gentleman came to help us and we left again 30 minutes later with a new scooter. In the streets of Lefkes, there were not many people and so much the better! On the other hand, there is little shade and it is really sloping so it is quite rough in full sun.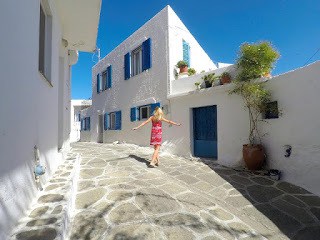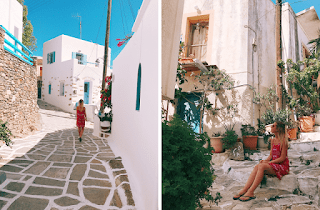 Piso Livadi: After visiting Lefkes, we left on the east coast in Piso Livadi, a beautiful seaside village with a beautiful turquoise water. We left the scoot to the free parking of the village and walked along the harbor then to the beach of Logaras which is 5-10 minutes away. It is a long beach rather nice with calm and transparent water. There are no deck chairs on the beach but a few trees to have shade. After a short break, we had lunch in the sand at Aktaion restaurant (not great but not too many choices in the area). Then we went down to Golden Beach which is about ten minutes by scooter.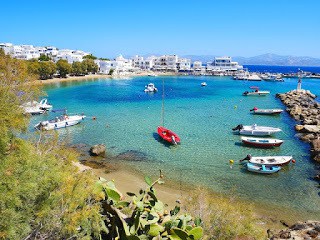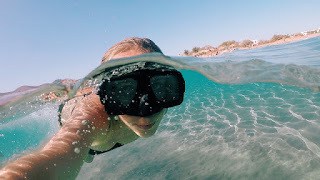 Golden Beach: This beach is located in the south below Piso Livadi. Called as one of the most beautiful beaches in Paros, Golden Beach is a huge white sand beach that stretches for miles. A playground for practicing many water sports such as paddle, banana, windsurfing … We, we spent a lot of time snorkeling and napping on our deckchairs at the Marabou Beach Bar. When I tell you we were productive this summer…