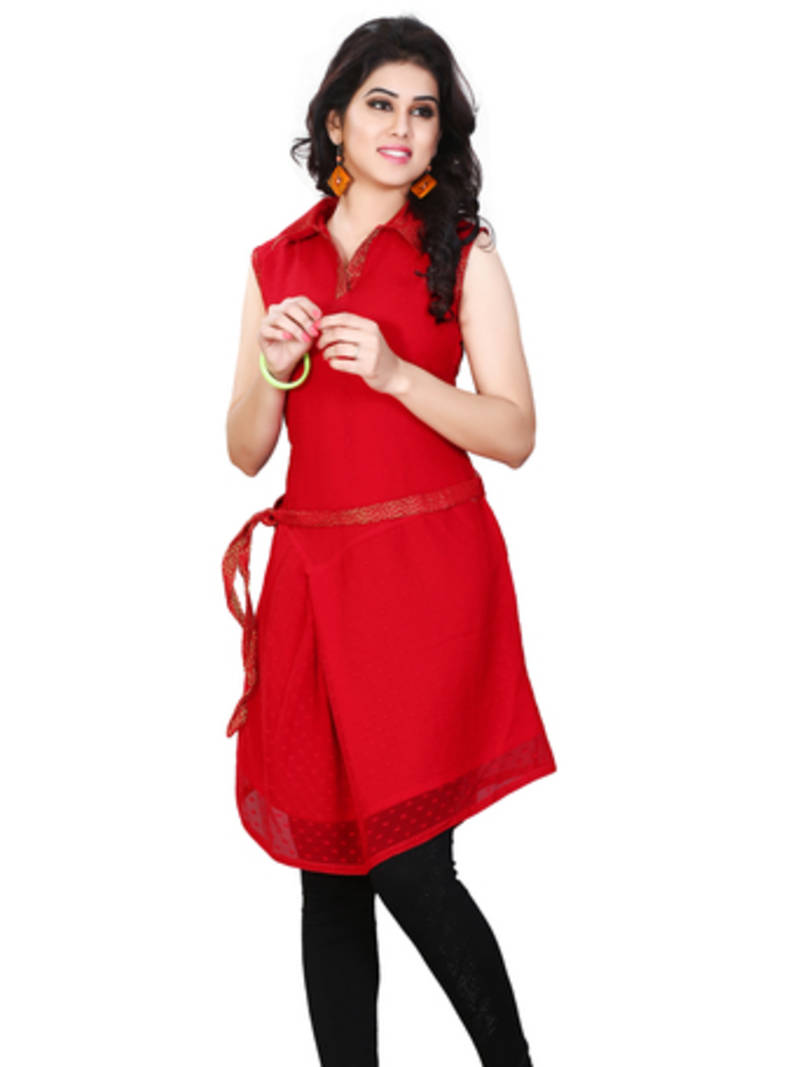 12 Designer Kurtis that are trending now
With the latest designs and styles coming up in Kurti's designs, it is becoming quite difficult for buyers to understand what's trending and what's out of style these days! Isn't it? 
Well, there is no doubt that there are some fabulous and great designs in Kurtis available in the market (online as well as offline market). If you are also searching for the trendy and designer Kurtis to add to your closet collection, then you must have a look at the below listed 12 Kurti designs that you can try this year. 
1. Front slit shirt style Kurti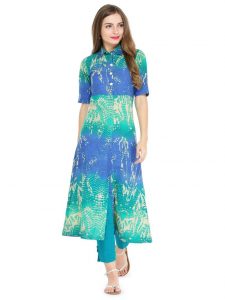 The shirt style Kurtis is already dominating the trend in the fashion world and the cherry on the cake is that front slit is added to give it a modern touch! To get that solid spotlight for any occasion or festival, this shirt style Kurti in front slit pattern is definitely an enticing choice for this year! You can also pair it with the statement style accessories and wedge heels to look super great! 
2. Asymmetrical Kurti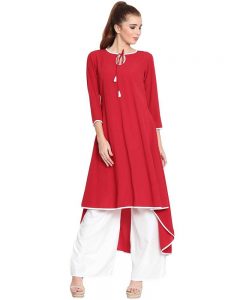 Nowadays, asymmetrical Kurtis are trending in ethnic fashion. The lopsided slanting design of the asymmetrical Kurti is definitely the latest in designing patterns and styles to add to your collection! The extraordinary design, variations, and cuts in this asymmetrical Kurti makes it a perfect tunic to pair it with palazzos, churidar, pencil jeans, or denim pants. Be it kaftan style Kurti or A-line asymmetrical design on the hemline makes it an exceptional Kurti to wear anytime and anywhere. 
3. A-Line Kurti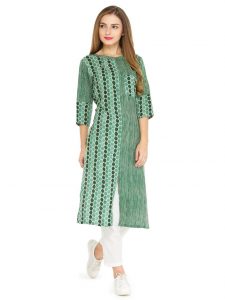 What about the A-Line Kurti in tie-up waist design? Well, this one is unquestionably a stunning Kurti design that's trending and the latest in the fashion world, especially in ethnic wear. The tie-up near the waistline and exquisite design makes it an enticing piece that you should plan to wear with a flared palazzo in a distinct color combination! Thus, it's the right time to ditch the boring and conventional styles in Kurtis and stock your closet collection with some great stuff to wear, be it a formally or occasionally. 
4. Anarkali Kurti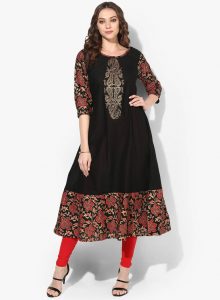 Here is another famous and evergreen style in Kurtis i.e., Anarkali Kurti! Even if you are in 2019, you cannot deny the fact that Anarkali Kurtis looks super great whenever they are worn with stylish bottom wear. The stunning flare at the hemline and decent design of the Kurti makes it a perfect ethnic wear outfit, be it for wedding occasion or formal event. Just make sure that you don't go with boring colors or shades in Anarkali Kurti because colors count a lot! 
5. Cold shoulder Kurti 
These days the fusion in ethnic wear is quite common and trending, just like the cold shoulder design Kurti! The popular brush off sleeve plan that can make you look enticing and sassy. With this designer Kurti, you can go with the V-neck design and flared hemline; even the straight cut would match. You can carry this off with leggings to spruce up the entire outfit! 
6. Front slit Kurti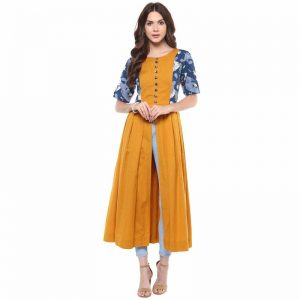 The cuts and slits in Kurtis are loved by almost every woman. The front slit style Kurtis can be worn even on regular office days as they are made from lightweight and comfortable fabric material. These front slit style Kurtis look great when they are paired with the right kind of high heel pumps and fashion accessories! If you pick up a designer front slit Kurti, then you can pull off the look in that one as well on parties and special occasions!  
7. Short Peplum Kurti 
Yes, those super stylish an ultra-cool peplum style Kurti short length is a fashion statement outfit that you must-have in your closet collection this year! You can resist buying this peplum style Kurti in short length as it gives that perfect Indo-western look and feel! To look chic and fashionable, go with this super sassy peplum Kurti along with the teaming up of dhoti pants or long skirts to make it an exceptional outfit for the day. With this attire, you will definitely make heads turn your way! So, girls, are you ready this festive season to buy something great and exceptional like short peplum Kurti? 
8. Kurti with Bell Sleeves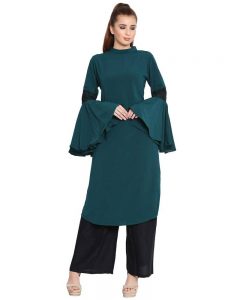 To make your ethnic wear attire a style statement, what do you think you can do excluding the neck design? Well, how can you miss the sleeves pattern? You can get the sleeves of your Kurti stitched from the tailor, just like bell sleeves that are trending these days in ethnic wear! The bell sleeves in Kurti will definitely make you compliment the entire ethnic outfit! Hence, wear it on formal events, get-together parties or on festivals, this bell sleeves style Kurti is a style cracker one in your closet collection this year! 
9. Layered Kurti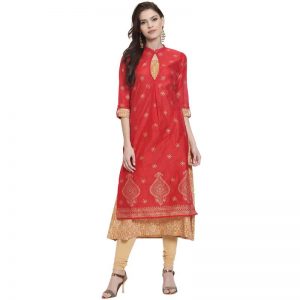 The layered style Kurti looks incredibly beautiful when they are worn with the palazzo pants. Even the layered style Kurtis is quite prevalent in women's ethnic fashion because they come up in different color combinations as well. So, don't buy what's boring and conventional in look because this layered style Kurti is all set to make you look beautiful and graceful on every special occasion! Get rid of those Kurtis now and get a stunning Kurti and pair it with your favorite palazzo pants! 
10. Kurti with shrug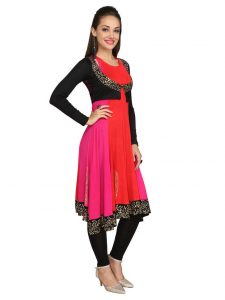 What about the Kurti style that comes up with a shrug? Nowadays, shrug come sup with the Kurti that embellishes the entire ethnic outfit and enhance the beauty of your personality. Moreover, the shrug also gives that flare to your Kurti that you really can't resist! The best pairing with this shrug style Kurti is narrow palazzo pants that are comfortable to wear and classy bottom wear to team it up! Just add extra fashion accessories like earrings, bracelets, or watch with your outfit, and then you are good to go for any event or occasion! 
11. Shirt Kurti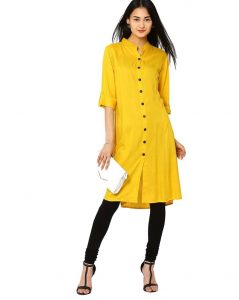 We have an amazing list of accumulated Kurti designs that can match with your personality and keep up your fashion game on point! For a style cracker ethnic look, you can choose to wear this elegant, classy, and sophisticated shirt style Kurti, which is absolutely easy going and can be worn even on formal events and meetings. You can team it up with the stockings, leggings, palazzo pants, or denim. Therefore, you have several options to choose from the long list of bottom wear to pair your shirt style Kurti with!  
12. Sleeveless Kurti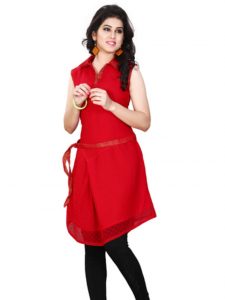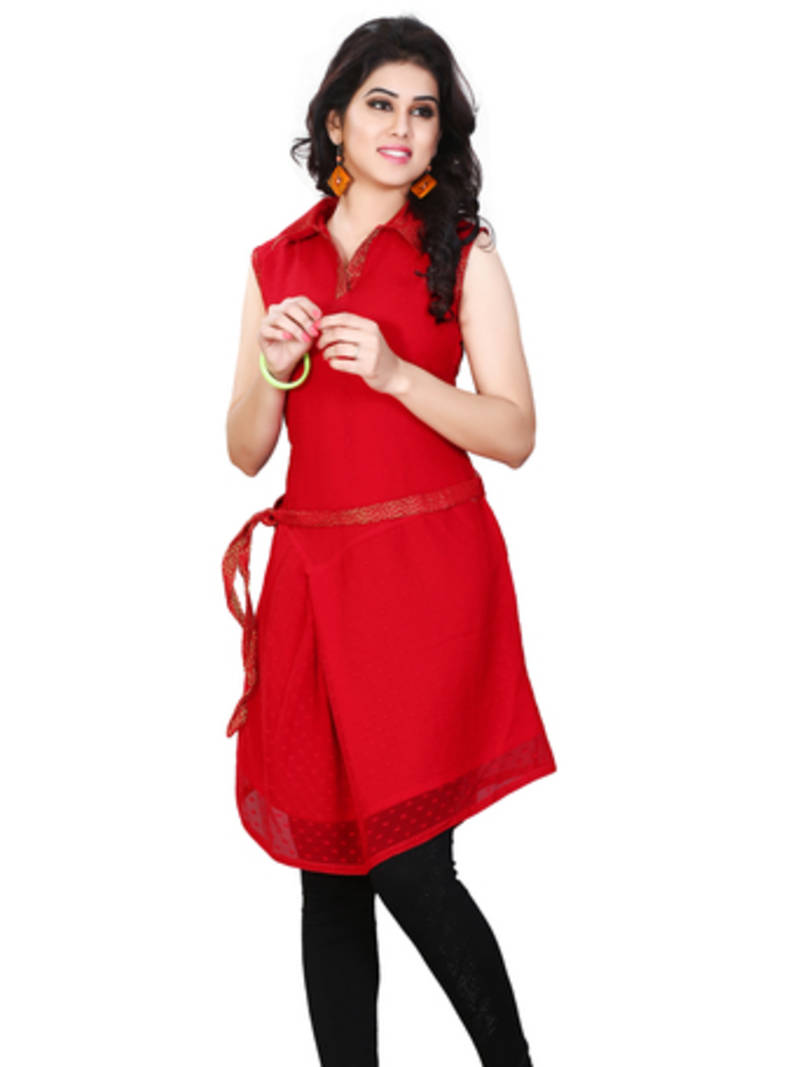 Here is sleeveless, Kurti. That's undoubtedly a hot piece of outfit. To captivate everyone with your ethnic looks, you should definitely choose to go with this sleeveless style Kurti that looks perfectly great on every woman. The best part about this Kurti is that it has a fusion of Indian and western styles. Of course, it's a traditional ethnic dress, but the sleeveless style makes it a bit of modish and designer outfit, which is perfect for wedding occasions like a cocktail party, evening function, or get-together parties with friends. To rock the look in this sleeveless style, Kurti, you should go with the jhumkas and bun hairdo, isn't it great even in imagination?  
These are the 12 best trending designer Kurti designs that not a single woman can ignore if thy plan for ethnic wear shopping! This year, you should stuff your closet with the gorgeous and sterling Kurti designs in the latest patterns, variations, cuts, shapes, and colors!