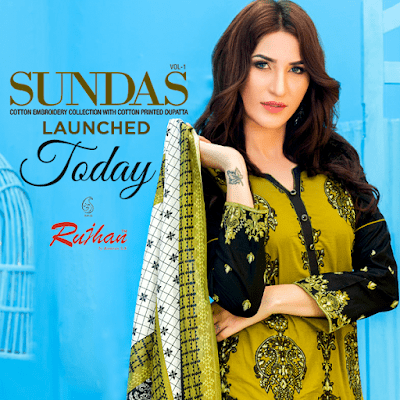 Sundas Fall Cotton Embroidery Collection 2018-19 Vol-1 by Rujhan Fabrics
Let us explore how flowers have impacted the fashion industry with "In Bloom". Rujhan fabrics bring Sundas Vol-1 Cotton Embroidery Fall Collection 2018-19 with Cotton Printed Dupatta. In cotton embroidery kurtis collection floral ideas collide with ikat mix with contemporary motifs are renewed for today women with stylized forms.
Rujhan Unique Sundas Cotton Embroidery with cotton printed dupatta Vol-1 Simple embroidery designs for dresses Collection 2018-19 an original balance and a touch of intertwining branches and sprigged floral of statement Victorian patterns. Rujhan latest fall Collection 2018 be jeweled with intricate detailing and heaving embroidered comes a treasure chest of elements offering a great value.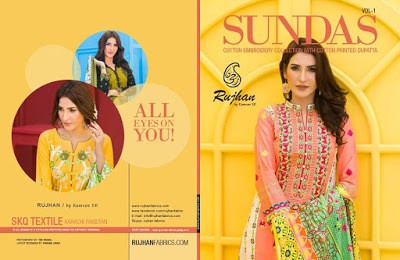 Sundas fall embroidery dresses is all about thrilling shades with kinetic prints that are further overstated by delightful embroideries on line. Take a look our winter fall fashion women collection and we sure that you will find the whole thing you want for this season. Hope you like this Rujhan best cotton dresses with embroidery Designs 2017-18 for voguish girls.