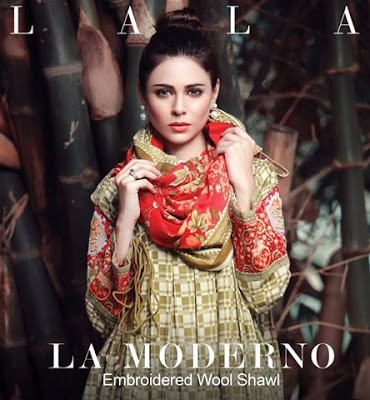 La Moderno by LALA Embroidered Khaddar Wool Shawl Winter Collection 2018
Lala presents the magnificent collection "La Moderno" Embroidered Khaddar Wool Shawl Dresses 2018 that is perfect expression for the winter seasons, colors of flecked, enchantment of greenery, attraction of city light, excitement of geometrical shapes, and magic charm of splendid designs are what we have amalgamated in our new winter collection regal combos of these exquisiteness are here to bring out some work of art for all the fashion passionate people around. La Moderno embroidered Dresses 2018 include printed chiffon dupatta, stunning embroidered shirt and attractive borders.
Exclusive wool shawl winter collection an elegy the rich artistic styles of the east. Our latest Khaddar collection is rich and overstated, intricate embroideries woven in a range of colors that will catch every eye and illustrate enthusiasm. Latest winter collection for ladies is a mixture of ultimate sophistication and elegance, from flourish to damask; intonations of geometric decoration impression make this winter season a majestic delight. Lala new collection of winter dresses showcase embroidered and printed cambric trouser, ornamental the delicacy of the collection. Let's have a look at La Moderno by LALA Winter Collection 2018 for girls.