IVY's Imperial Voyage Exclusive Bridal Dresses Collection 2018-19
IVY's Introducing Imperial Voyage Designer Bridal Dresses 2018-19 for voguish girls. The first of its kind designers for wedding dresses sumptuous and majestic collection was inspired by imperial cuts and modern hues. IVY's ladies designer brands stimulate the ancient crafts of gota and dabaka in eye catching nude shades, pastel hues. Luxury designer dresses the blend of modern cuts and designs yet remaining loyal to cultural aesthetic.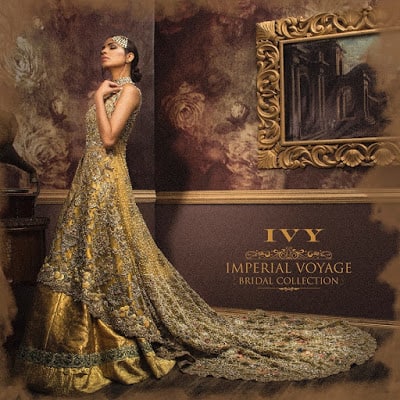 IVY'S designer winter bridals wear available entirely on order or via Facebook Messenger and Instagram @ theivyofficia.l IVY's designer couture wedding gowns photography by Alee Hassan, attractively modeled by Fouzia Aman, beautician makeup by Shoaib Khan and extravagance jewelry by Kangan Al Fatah. IVY'S luxury wedding dress designer's subtle gold touches the designs that give the ensemble the finishing touch. IVYS'S designer clothes women comprised of beautiful shararas, ghararas and farshi ghararas artistic tribute to love and serenity; with intricately designed dresses that depict the eastern reality.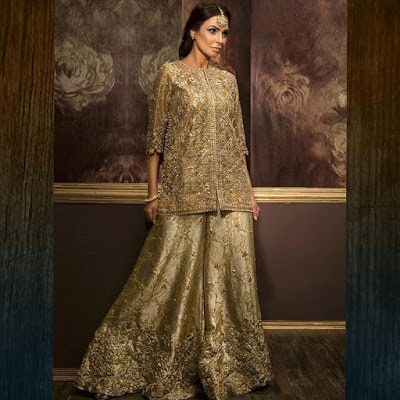 The couture collection offered wedding dresses an embarrassment of silhouette option from embroidered long jacked worth with billowing luxury evening gowns to sensuous cholis. The wedding gown collection all based on traditional and contemporary series on rhyme to the rich, traditional crafts, combining diverse combination of luxury designs and cuts based on vivacious color Platte.