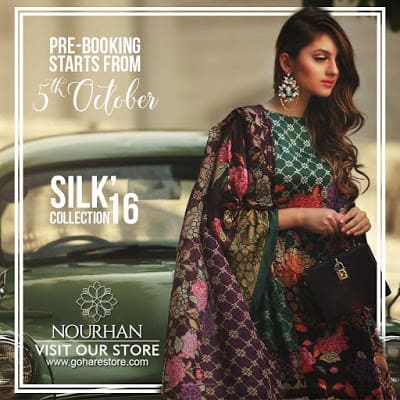 Gohar Textiles Nourhan Embroidered Silk Collection 2018-19 for Women
Make a fashion statement with Gohar Textile Nourhan Silk Collection 2018 with a blend of delicate floral embroidery dresses, botanical motifs and geometrical digital prints for girls. Nourhan by Gohar Textiles designs floral dresses with premium collection the contemporary attire in mind, the silk collection range from soft pastel hues to some contrasting delicately embroidered ensembles diffusion experiments with vibrant colors and audacious cuts to inspire adventurous and bold element for a more glamour look.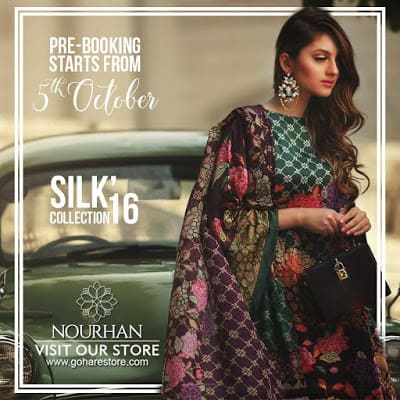 Modernize your clothes in this winter season with our elegantly sophisticated design from the Nourhan silk dresses for Women 2017. Gohar Textile Nourhan embroidered suit designed with the most elegant cuts and aesthetic sense. No more wait; here is a sneak peek behind the scenes of our silk chiffon dress Collection 2018 shoot. Nourhan casual floral dresses for women have definitely made to the top with his outfit by infusing incredible designs with intricate embroidery work.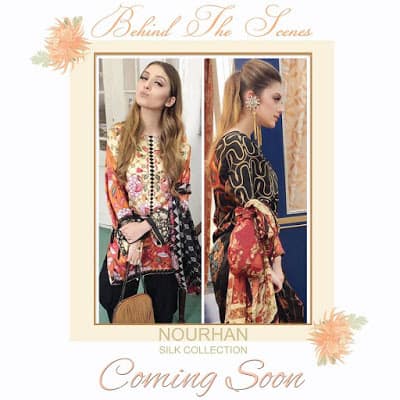 Gohat Textile Silk Embroidered Floral Dresses Collection for Women 2017 adds beautiful damask floral jhaal digital print coalesced with Chinese crane birds. Stunning embroidered floral motif on the trousers conclude the look. Take a look Nourhan Silk Printed Collection 2018-19 for ladies.