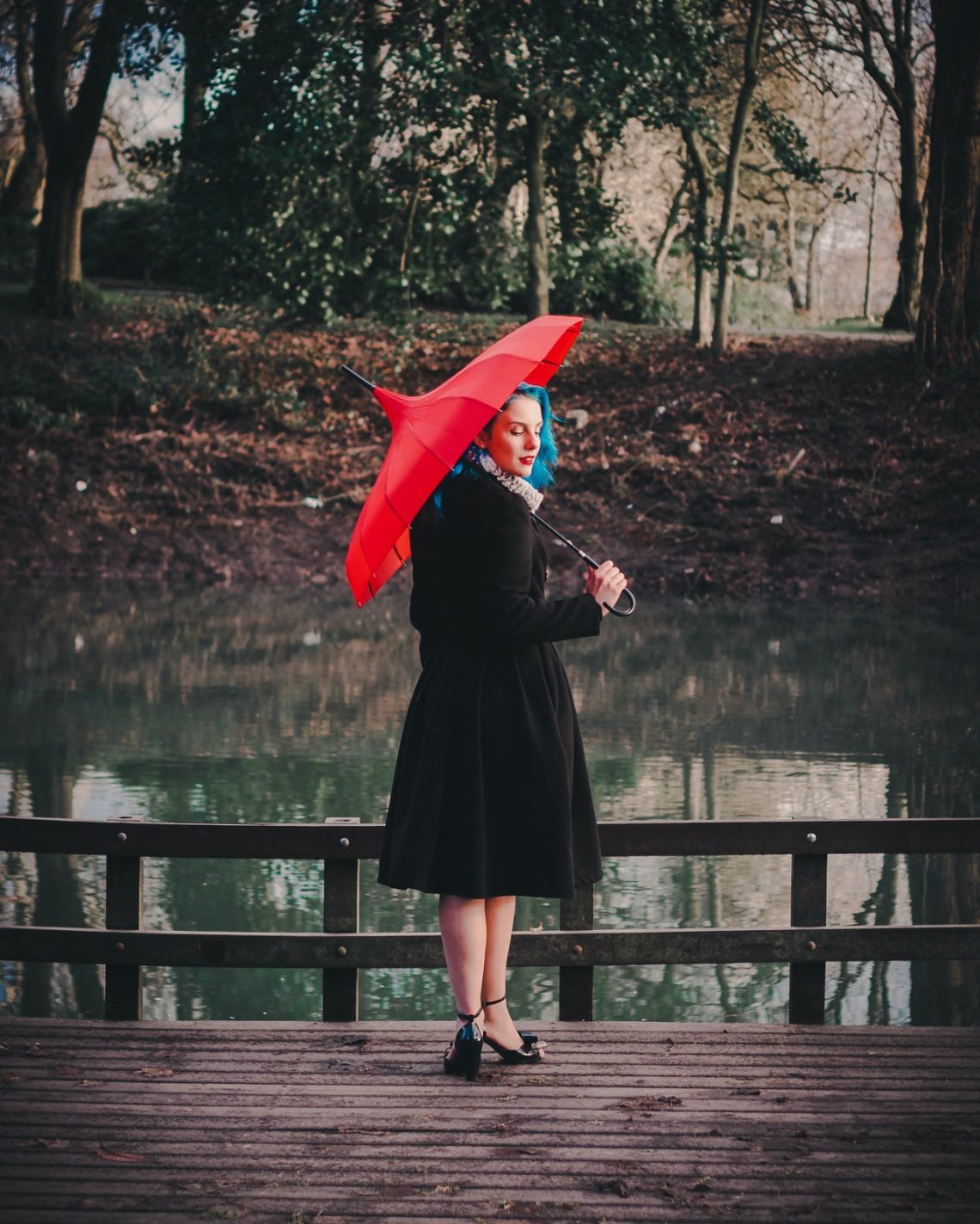 Easy Styling Tips for Rainy Season
Rainy days may seem gloomy to some, but with the right attitude, they can be fun. They are the perfect time to unleash your inner child and splash in puddles. You can even re-enact romantic scenes from your favorite rom-com. 
You can also look chic when you are enjoying the rain. The options are vast, but it can be a bit tricky deciding what to wear. With a little planning, you can have a variety of outfits that are both functional and flattering.
If you are seeking fashionable tips that will also keep you dry during the downpour, you are at the right place. Here are some simple pointers in sorting out your attire and embracing the pluviophile within you.
Wear a Rain Jacket
If you find umbrellas to be a hassle, then rain jackets are perfect for you. They are easy and comfortable to wear, and they protect you from Mother Nature's showers quite well. Moreover, you can use them to make a style statement. 
Choose fun, bright colors that complement your outfit. One foolproof way is to wear an all-black outfit, perhaps a black blouse paired with black pants, and finish off the look with a vibrantly colored raincoat. You can also try out a monogrammed rain jacket for a unique ensemble.
Alternatively, you can also pair the look with a trench coat as they are ideal for the wet climate and vibe well with the season. Whether you wear jackets or coats, make sure they are well fitted and hug your curves.
Go for Rain Boots
To protect your feet from mud and water, it is ideal to wear rain boots. They can be cute and trendy and keep you from slipping on the wet pavement. Put on leather boots to create a bold look. Depending on the length of your dress or skirt, you can opt for thigh boots or ankle booties.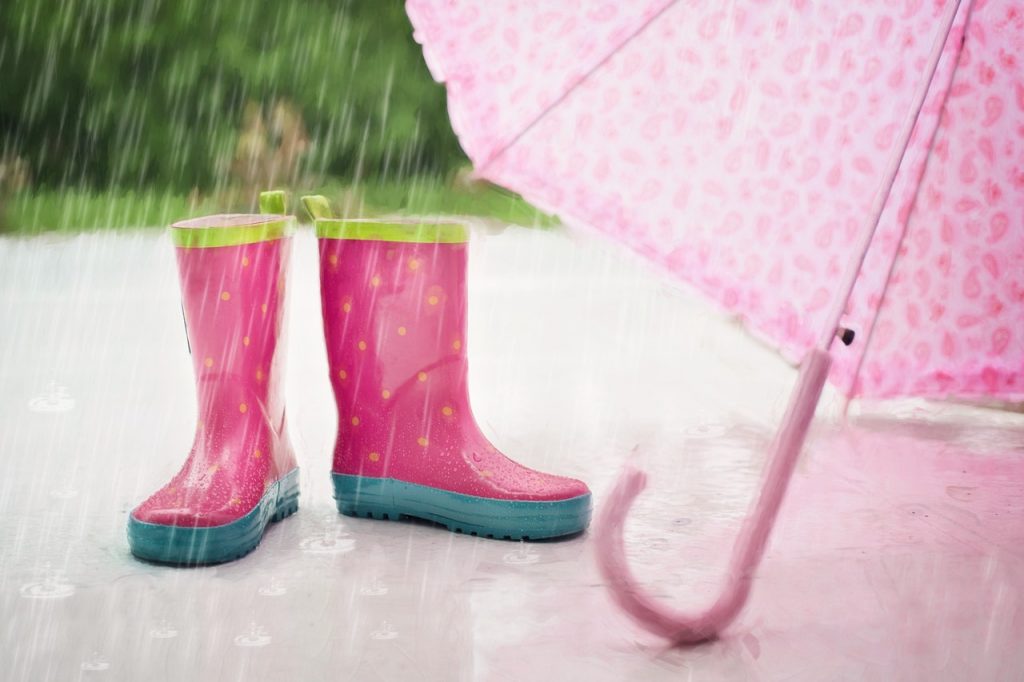 If all else fails, you can go for the classic gummy boots. Gummy boots are impervious to water and easy to clean. They are also adorable and give you the freedom to jump in mud puddles with impunity.
Pants
If you decide to wear pants, it is best to wear a dark color since the chances of them being stained by rain or slush are pretty high. You also do not want it to look like you have wet your pants. Dark colors prevent these kinds of mishaps.
It is also advised to avoid wearing loose pantaloons and flared jeans. The expanded surface of the pants is more prone to collect dirt and mud from brushing the ground and can be difficult to clean. 
Hence, go for slim-fit trousers or cropped pants. For example, a pair of capris is a good idea on a wet day. You can also opt for skinny jeans as they are never out of style and are always a safe choice.
Head & Shoulders
It is vital to protect your head from the rain. Besides ruining your hairstyle, when your head is exposed to the rain and winds, you are more likely to catch a cold.
To avoid getting the flu, it is best to wear a water-repellent hat or a beanie. When you are buying a windbreaker, choose one with a hood.
Alternatively, you can also accessorize with an umbrella. You can subtly cosplay Tracy from How I Met Your Mother by donning a yellow umbrella. You can also go for those quirky transparent umbrellas and flaunt your unconventional style.
Bag Necessities
Prancing your way to work in the rain is quite an activity. It would be very frustrating to drop your belongings or have to rifle through your stuff in a downpour.
To avoid such unnerving situations, it is best to opt for a bag that is big enough to carry everything, including your emergency rain supplies like umbrellas and plastic capes.
There is a diverse range of bag options. A stylish backpack is a great choice as it is easy to carry and store your things. You can also invest in high-quality handbags that express your elegant side.
Color Coordination
Mix and match different components of your outfits with complementary colors. For instance, put on a pastel pink flowy dress paired with boots, a black leather jacket, and a black beanie. Alternatively, you can sport a casual white T-shirt paired with skinny ripped jeans and a water-resistant parka.
Avoid wearing clashing designs and colors at all costs. Even your cutest pieces will be rendered useless when you wear colors that do not complement each other.
Be Playful with Skirts and Dresses
Own your femininity with charming dresses that highlight your curves. A knee-length dress or skirt is perfect during a light drizzle. To protect your legs, you can wear leggings or tights, which will dry faster than pants. The best part of wearing dresses is that most of them are compatible with many types of boots.
You can wear flower prints or monochromatic skirts. Skirts are also ideal for a leisurely rainy day. Fun prints and designs liven up the whole outfit, establishing a trendy outfit for the day.
Fabric Matters
It is advised to wear light and breathable clothes when it is raining. For dresses, blouses, and tops, cotton is the ideal material. 
However, when you are opting for boots, coats, and jackets, it is best to opt for the ones with sturdy fabric that does not let the water seep through and soak your clothes. Sturdy fabrics are usually synthetic materials like nylon which dry off pretty quickly.
If you are planning to wear tights or leggings, it is best to wear ones made of lycra or any other fast-drying materials.
Your footwear should be either leather or rubber. Your coats should be polyester or a blend of polyester and cotton to be more breathable.
Look Stellar in the Rain
Do not let wet weather rain on your fashionable parade. Opt for protective outer layers such as jackets and shoes. Ensure that the inner layers (the clothes under your jacket) are comfortable and lightweight.
Make sure you wear colors that go well together, and do not be afraid to play with bold contrasts. Last but not least, the secret of owning the styling game is to always show your confidence.
Featured Photo by Nick Demou from Pexels