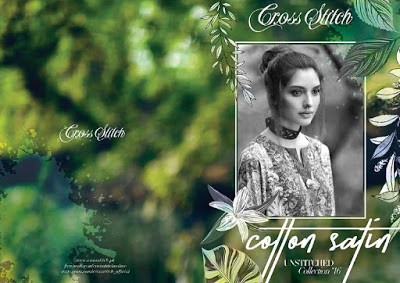 Cross Stitch's Winter Cotton Satin Collection (unstitched) 2016-17
The rules are being rewritten, the terms are redefined. Three Cross stitch's winter cotton satin unstitched Collection 2018-19 brings a powerful freedom, in expression and thought – which delicate patterns, floral and luxe surface texture meet winter's perfect hues to make a potent match. Cross Stitch's winter formal cotton satin dresses is available in store on the 20th of October '16. Cross Stitch Fall/Winter unstitch 2016 collection wardrobe staple to transport you into the season's serious melancholy, it is this: a completely boho, era and playful colored print. She made way for mountains the surreal landscapes, the vast greenery. Cross Stitch ladies cute dress outfits for winter out of bounds and out of reach in her pastel dream. Embody the free spirit of the wonderer lifestyle with other worldly prints perfect for a timeless wardrobe for this season.
Cross Stitch unstitched Winter Collection 2018-19
Cross Stitch winter Collection 2018 unique cuts and silhouette adds glamour to earth tones, bright floral and wispy fabrics. Unstitched winter outfits for womens ultra feminine with a side of sweet, this delicate number are for the keeps. Women winter style Dresses 2018-19 at midnight hues is all you need for dramatic effect -here a full impact print with nature and delicate architecture inspired appliqué does the trick. The start of new season calls for making a move in subdued hues and soft silhouettes with printastic appeal. She wanders far end wide in bright feminine hues, wishful of spring looming closed and weathered dreams of the journey past. Select and look bright with Cross stitch 2016-17 unstitched dresses for the winter season.